If I have a favorite thing to sew, it would without a doubt be summer dresses.  As a native of west Texas, I find dressing for the heat much easier than layering up for winter.  Summer dresses are usually drapey fabric in bright colors and prints.  Plus, you get to show more skin!  As a result, I probably sew more summer dresses than I really need, but when I saw the July cover of Burdastyle, I knew that I was going to make one more.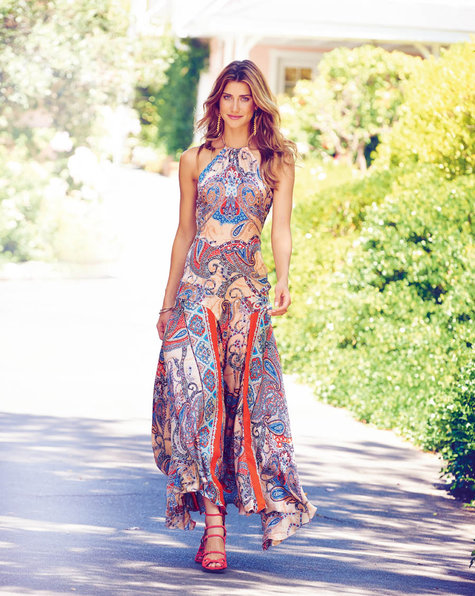 Way too gorgeous to resist.
The one downside to this dress is the amount of fabric it requires.  Since it needs five yards, I knew that I would have to find fabric at a good price to make the cost reasonable.  Thanks to my favorite discount fabric site, Fabric Mart, it didn't take me too long to find the perfect rayon challis print.  (If you are trying to keep your stash under control, under no circumstances should you look at this site.  However, if you want really good deals on fabric, even some really unique ones, go check this site out.  Then your biggest problem will be resisting the urge to buy way too much.)
I cut the size 40, which matches my waist and hip measurements, and added a bit to the front side seams to account for my bust.  This is a tall pattern, so I also removed 2 inches from the front and 1 from the back bodice.  Since the skirt is so huge (8 pieces!), I felt like the yoke would be supporting a lot of weight.  In such a light drapey fabric, I was worried about it stretching out.  To remedy this, I cut the yoke twice and interfaced the inner piece.  In retrospect, I'm not sure this was a good idea, but whatever.  Other than that, I constructed it pretty much as directed, using my serger to finish the seams.  I did a serged rolled hem, which saved me a ton of time.  It is not obvious from the cover pic, but the dress has an angled yoke and then angled seams on the skirt.  These seams are quite tricky to sew; the simple appearance of this dress belies the difficulties of it's construction.
In addition, I had to do quite a bit of tweaking as I went along.  I added bust darts (which I was expecting that I would probably do from the beginning).  I had to take another inch off the top of the bodice (grrr, stupid tall sizing).  I also had to take two inches off the hem (one inch was my added hem allowance).  After I got the zipper in, I decided I needed to take the side seams in a bit on the yoke.  (Which of course meant that I had to re-install the zipper.)  Even once I had done all that, I still wasn't happy with it.  The back of the dress was drooping down, and I could tell that I was going to be constantly yanking it back up.  Burda does have you use elastic on the upper part of the back, which is definitely a good idea.  I had already shortened the elastic an extra 11/2″ to try to keep it from slipping down.  However, I think that the physics of it just do not quite work out.  Usually, strapless or halter dresses are kept up by the tight fit of the bodice.  My bodice actually is quite fitted, and I'm not sure it could be much more fitted given the light, drapey fabric.  So, I gave up on the halter neck and attached the straps to the back.  It may detract somewhat from the look of the dress, but it instantly felt so much better!  I was finally really happy with this dress.
Even though it required quite a bit more work than I was expecting, I'm happy I stuck with it and made all the changes.  I may not need another summer dress, but I love this one!