I am continuing my fall theme with these next two garments.  These are both light cardigans that will probably be useful in protecting against air conditioning in the summer as well as for layering in the fall.
The first is a nice neutral made out of a so-dark-it's-almost-black navy blue (I believe some call it "midnight navy") wool jersey.  I believe I got this from Mood last year, but I'm not totally sure.  Although it's very thin, it's actually quite warm which is a good thing for me.  I used an old Burdastyle pattern (3-2013-107B) for a fitted cardigan that has a gathering detail on the front.  I thought that might provide a bit of interest in an otherwise simple sweater.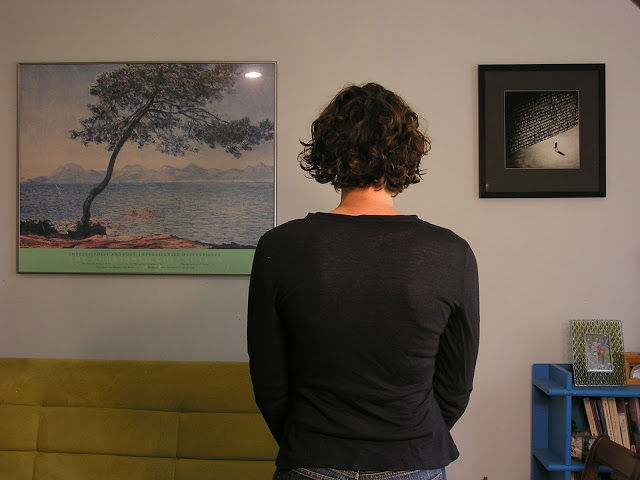 Construction was pretty basic: I used my usual knits method of serging and setting the sleeves in flat.  Hems are stabilized with stitch witchery (a light fusible webbing) and then stitched with a twin needle.  The only tricky bit was the band.  The pattern actually has you cut a shaped band, but I wasn't sure what the point of that was, so I just cut a rectangle of the correct length.  I used a fusible knit interfacing (from Fashion Sewing Supply- their interfacings are the best!) to stabilize the band.  The band is stitched to the neck and front and pressed in half.  The seam allowances are then pressed under and topstitched to finish the band.  I did a horrible job of this.  I won't even show you how bad it looks on the inside.  I'm either going to have to use my other method of attaching sweater bands–pressing them in half and serging both edges to the front– or I'm going to have to figure out a way to be more accurate when topstitching.
My other sweater is made out of a lacy striped rayon that I picked up because it was cheap and fun.  I'm using a pattern that I made up once last year, McCall's 6803.  This is a unisex pattern, which a lot of people don't like.  I actually found the sizing of the body to be fine, as long as you rely on the finished measurements to pick your size.  It's not really fitted, but that is how I like my sweaters to fit.  The sleeves were ridiculously long, though.  I think that I took off something like 6 inches after cutting out my sleeves when I first made this pattern.  That ended up being a little short, so I took only 4 inches off this time.  Luckily, that is an easy adjustment to make, and I really like the rest of the pattern.  The other nice thing is that since it is unisex, I am planning to make Mr. Kiri Knits a sweater as well!  On this sweater, I felt that my knit interfacing, which is white, would be too visible, but I still wanted to stabilize the front band and cuffs.  I used a black powermesh instead.  This seems to have been a good solution.
The only thing that went wrong with this sweater is that when I was serging the front band, I managed to cut into my front.  Since I had to either fix it or ditch the whole sweater, I used bits of my powermesh and zigzag stitching to repair it.  Up close you can see it, but I think that when it's being worn, it's not too terrible.  I also have yet to find buttons, so I have not done the buttonholes yet.
Overall, I enjoyed whipping out these two projects.  I can always use more things to layer; I think the wool one will come in especially handy.
This is just pinned.  But check out the stripe matching!