My favorite season is summer.  Even when it is 90 and humid, I am still happy to be warm without having to think about wearing layers all the time.  It shouldn't be a surprise that I love making and wearing summer dresses.  I could probably make an unlimited number of summer dresses, but I have imposed some restraint on my sewing.  I only allow myself to make one new summer dress per year.  Since I only get one, I'd better make it good.
I have a bunch of patterns and a stash of Burda magazines, so I browsed through them to find something I liked.  I settled on 6-2016-106, which looks like a simple, easy halter top dress.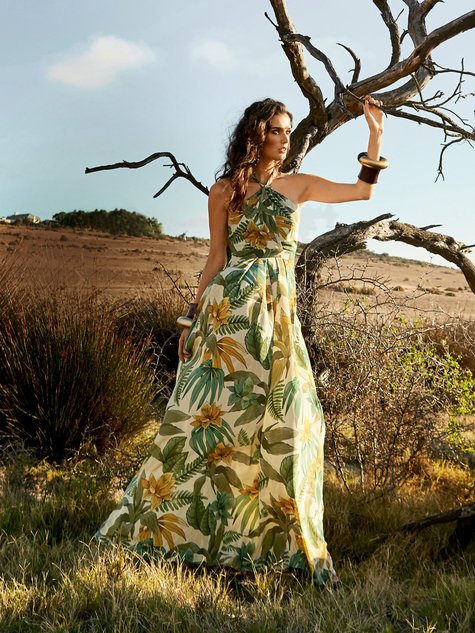 The appearance of this dress is deceptive.  Although the bodice looks simple, the visible part is only an overlay over a strapless bodice.  This is actually really smart, because without some structure, bodices like this tend to have trouble staying up.  I had that problem with another summer dress I made (also from Burdastyle).  With the previous dress, I attached the straps to the back instead of leaving it as a halter top.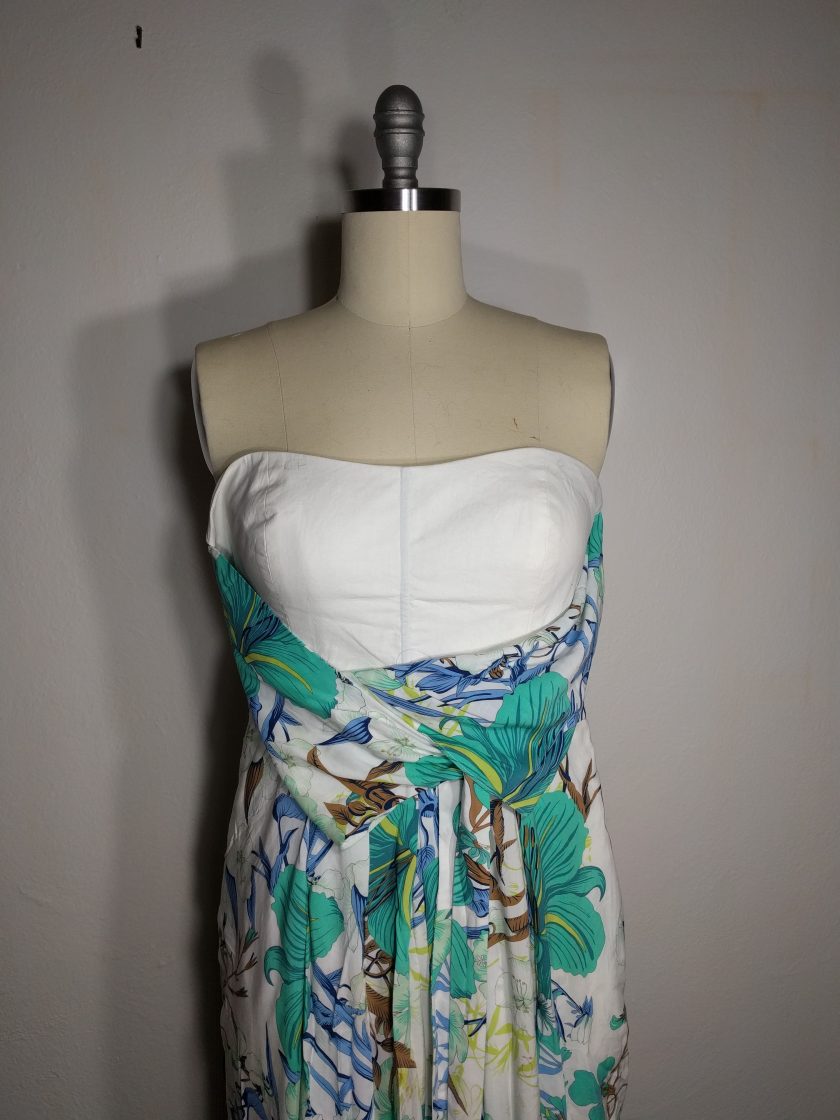 The fabric for this dress was also from my stash.  It is a rayon challis purchased from Fabricmart.  Unfortunately, since I did not buy the fabric with this pattern in mind, I only had 3 yards.  The pattern calls for 4 yards.  I was determined to use this fabric since it was such a perfect fit.  Although sacrificing length would have been the easiest way, I really wanted to maintain the maxi length.  I had to think it through really carefully.
In the end, I was able to squeeze a maxi length dress out of my three yards, but only because I used quilting cotton for the underbodice.  This actually worked great because a stiffer and stronger fabric worked but better than the challis would have.  I I was able to save a foot a fabric just by being short.  I cut off 6.5 inches of the skirt, but as you can see it is still maxi length on me.  I also had to cut the straps for the neck differently.  The drafted strap is shaped and quite wide.  I had to squeeze my straps out of the strip of fabric left next to the skirt, so they are much skinnier rectangles.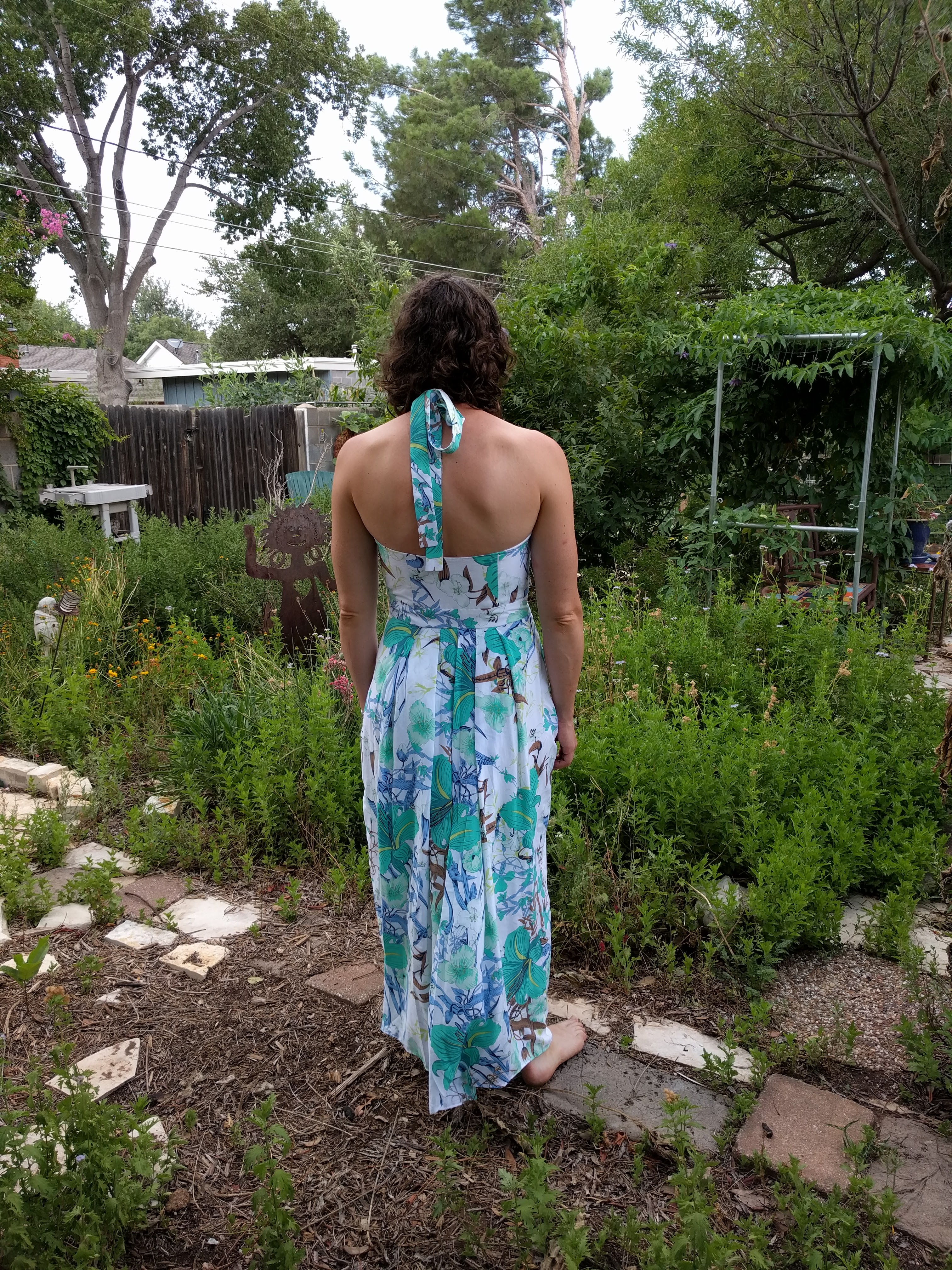 Since I knew I would want a very close fit in the underbodice, I cut one size down from my usual Burda size (38 instead of 40).  I had to add an inch back at the waist, but overall this worked out well.  To check my fit, I basted the underbodice together and tried it on, before sewing it.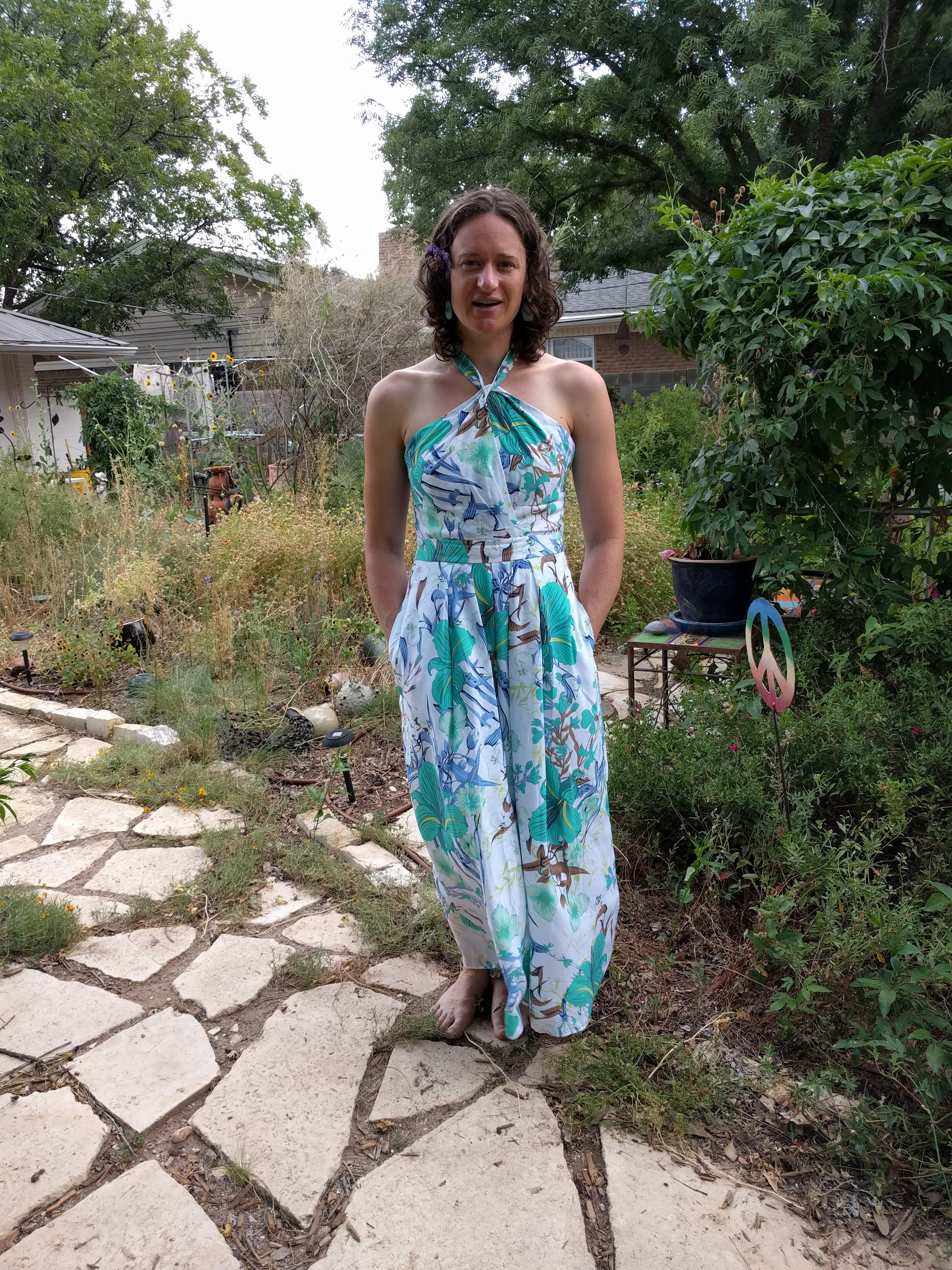 In constructing this dress, I really took my time and added in some nice details.   The underbodice has spiral steel boning at the side back and center front seams.  The top seam of the waistband (between the waistband and the bodice) is hand sewn together.  This should help keep the underbodice and overlay aligned.  I added a short lining to the skirt as this fabric is obviously not opaque.  I also added pockets, even thought there is a side zipper.  (I'm so glad I no how to do this now!)  The hem is a hand-rolled hem.  (I am doing a post on different hems soon, so stay tuned to learn more about this.)  I really enjoyed spending the time to do things right.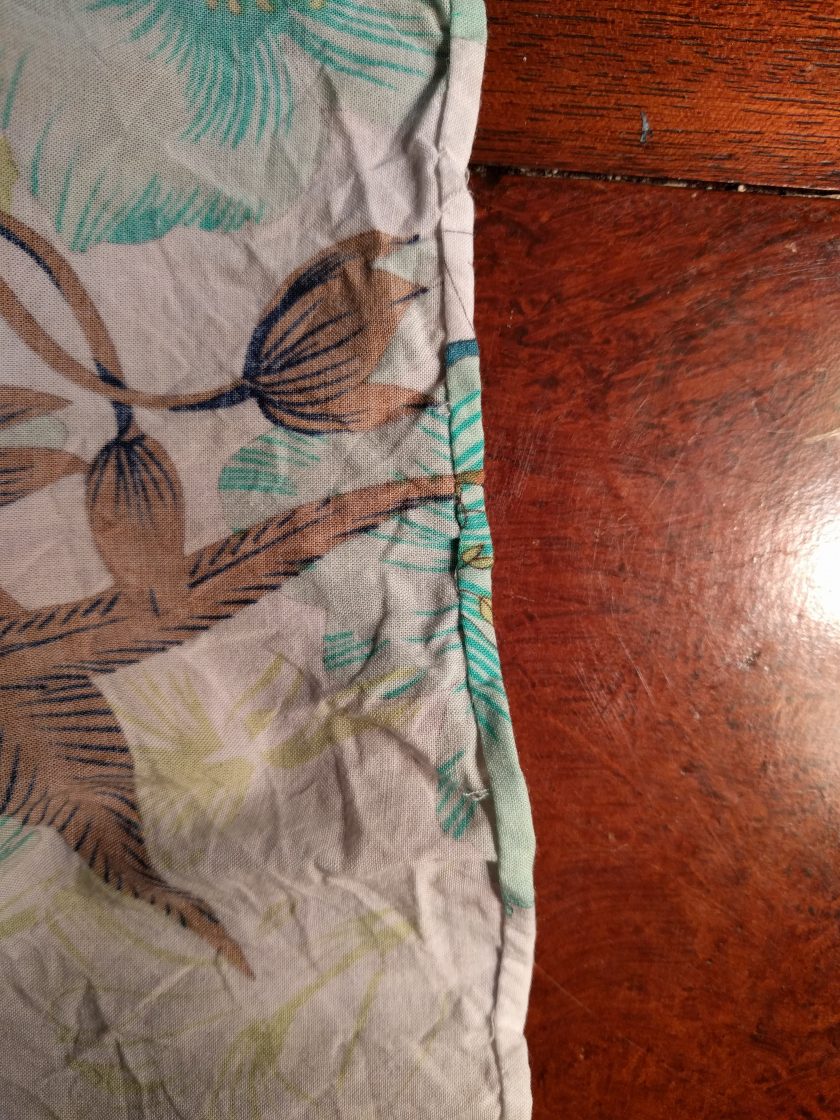 The only thing that really could have helped this dress was some silicon-backed elastic.  The pattern recommended it, I wanted to get some, but it turns out it's hard to find.  Wawak had some, but you could only buy a roll, which was like 25 yards.  I figured I would be able find a smaller amount at JoAnn's but they didn't have any.  I may try to add it in the future because even with the close fit it slips down a bit.  The other thing that may help would be to add a waist stay.  I really wish I had thought of doing that during construction!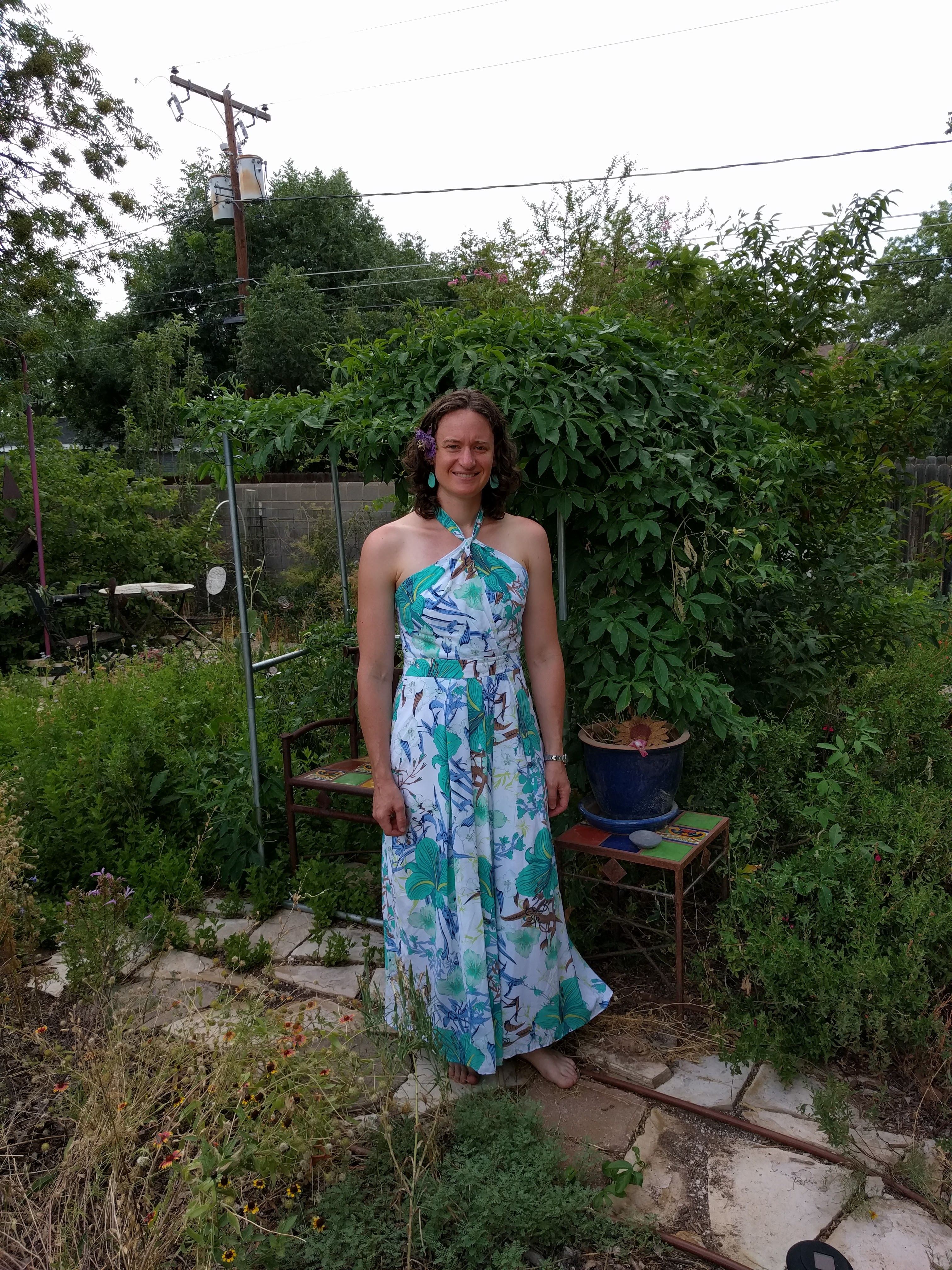 Despite this small error, I really love this dress.  It is super comfy and cool, and it was exactly what I was picturing for my summer dress this year.