As I was taking apart our antique couch that Wade and I brought home from a farm (see my previous posts for pics of the inside, repairs, and the upholstery thus far), I really started to wonder about its origin.  Most of all, how old was it?  Our initial guess was late 19th century, but we are definitely not experts (so please take everything that I say with a grain of salt).  Our guess was based on a quick perusal of images of old couches on the internet and a gut feeling that it was at least 100 years old.  However, we really had no idea, but I desperately wanted to find out.
When we first brought the couch home, we did take a look at the castors, which had a brand name printed on them.  Wade found some old ads that indicated that the wheels were made in the 1920's.  That told us that the couch was at least that old.  We could also see that there was a previous set of holes on the feet, likely from the original castors.  This indicates that the couch was not made in the 1920's because if it were new, there would be no need to replace the wheels.
There were also several other indications that the couch was not a new reproduction of an older style.  First of all, the stuffing materials are all natural: wood shavings (also called excelsior), straw, dried Spanish moss, and horsehair.  (For help in identifying the stuffing, I used this informative post by a Canadian upholstery shop.)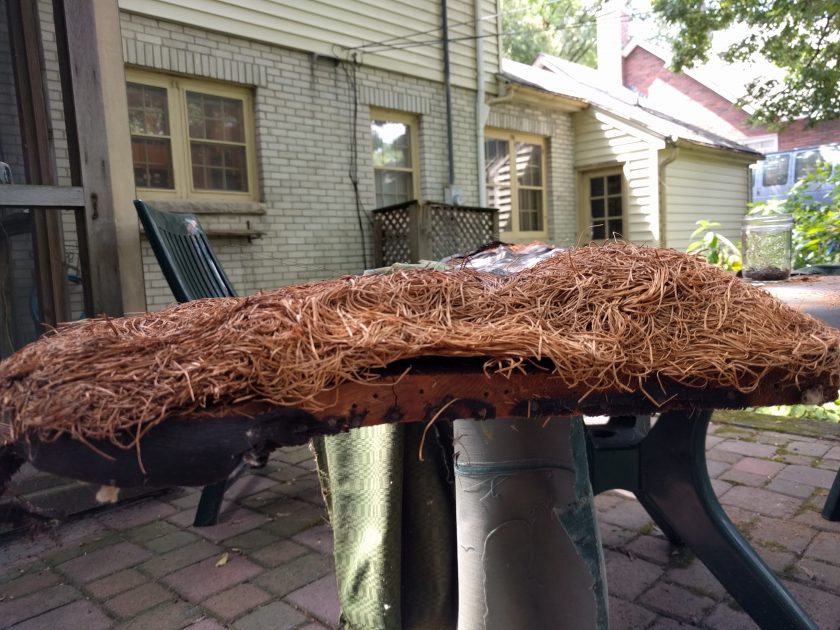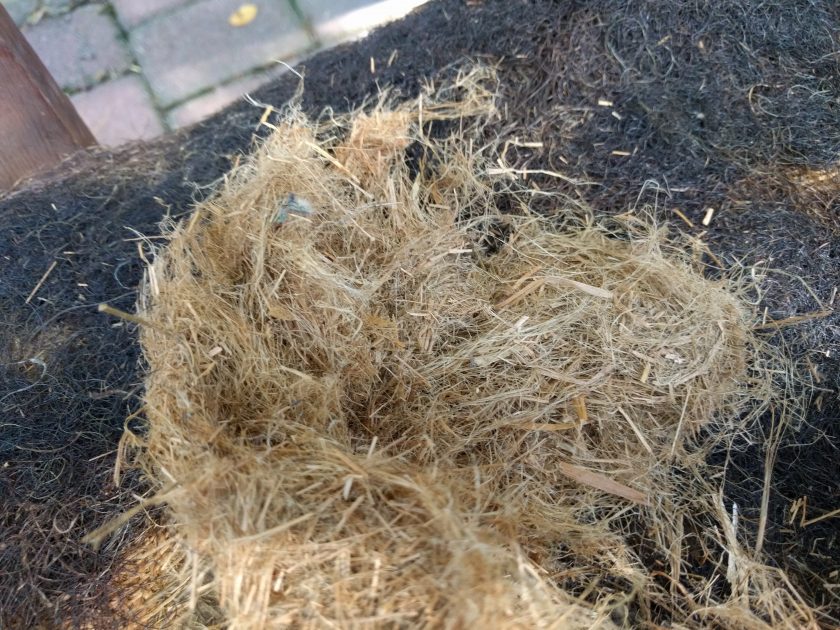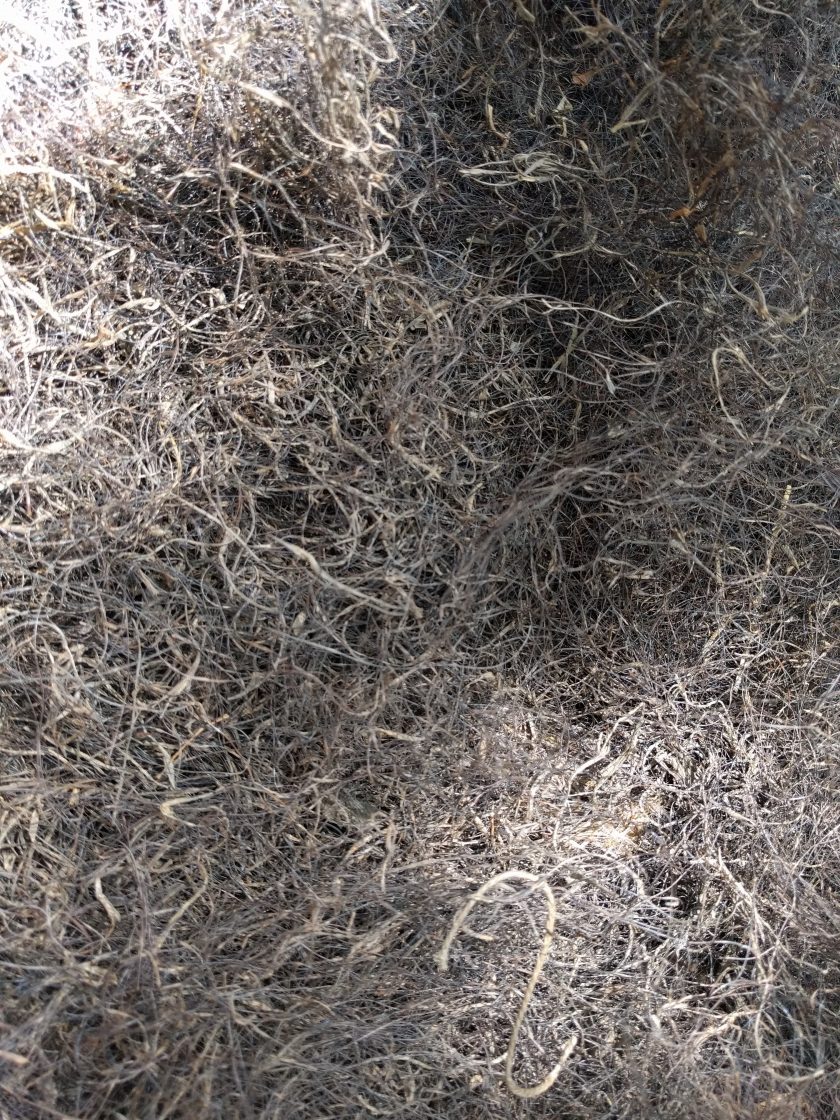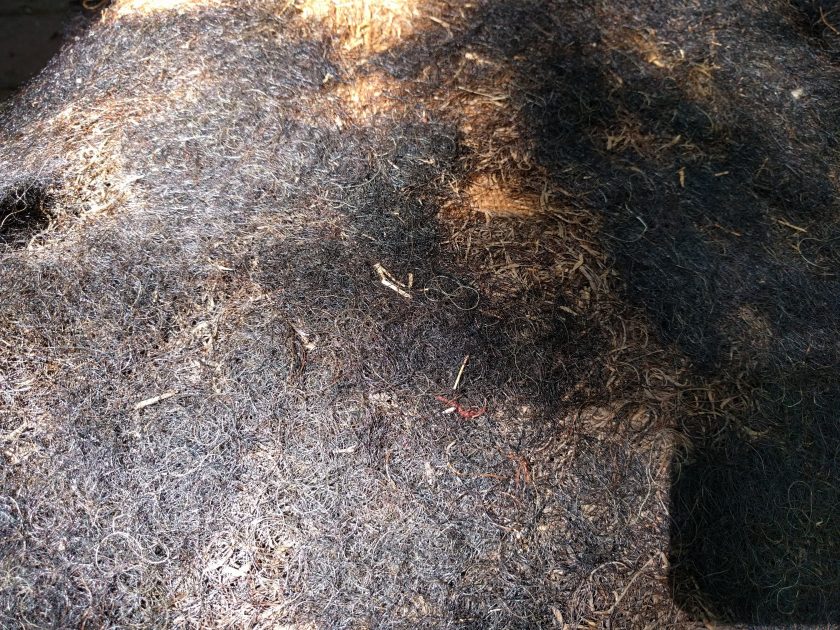 This doesn't really help much with age because it is my understanding that synthetic upholstery foam was not commonly used until the 1950's.  I believe that up until then people continued to use the same materials they always had.  Another thing that can be used to date furniture is Philip's head screws.  Apparently, the Philip's head was not patented until 1936, so anything with Philip's heads has to be newer than that.  The couch has only flat head screws (they are used to screw the back pieces onto the frame), but obviously that means nothing as flat heads are still in use.  Staples rather than tacks would also indicate a newer reproduction, but the tacks don't really help date it.  Even if it had staples that wouldn't be definitive, because when a couch is reupholstered, newer materials may be used.
So where does that leave us?  Well, I felt pretty sure that the couch was older than the 1920's, probably made sometime in the 19th century.  I thought the best way to identify how old it was would be to identify the style.  Wade and I both went about tackling this using different methods.  He used Google image search to find similar couches.  I went to the library and go some books on 19th American furniture.  Between Wade's searching and my reading, we were able to finally identify the style as being late Empire (sometimes referred to as Pillar and Scroll or Restauration).  The biggest clue for us were the feet.  Some of the other design elements, such as the use of flower and shell motifs in the carvings, are found in several styles.  But no other styles seemed to have the heavy broad feet that our couch does.  Patricia Petraglia in Sotheby's Guide to Ameican Furniture describes the difference perfectly; "[c]ompared to those of Federal forms, which are noted for delicacy in scale and a highly linear quality, Empire legs, feet, and ornamental motifs swelled and became quite sculptural".  Apparently the Empire style is nicknamed "fat classical".  The Empire period extend roughly from 1815 to 1840, and we think that are couch was made towards the end of that.  If the couch was made in the midwest as opposed to the east coast, it may even be later than that as new styles took longer to spread from the coast.
Interestingly, according to Petraglia, this late Empire period was when furniture started to by made more by assembly line.  Machinery (although what kind is unspecified) was also introduced at this time, which enabled furniture makers to move towards factory style production.  Each worker specialized in only one task, rather than having a craftsman make an individual piece.  Some craftsman even left the coast and traveled west to avoid the industrialization of their industry.  Unfortunately, this also meant that similar furniture was made in different places, making identifying the origin of specific pieces harder.
We were able to find some couches that look extremely similar to ours.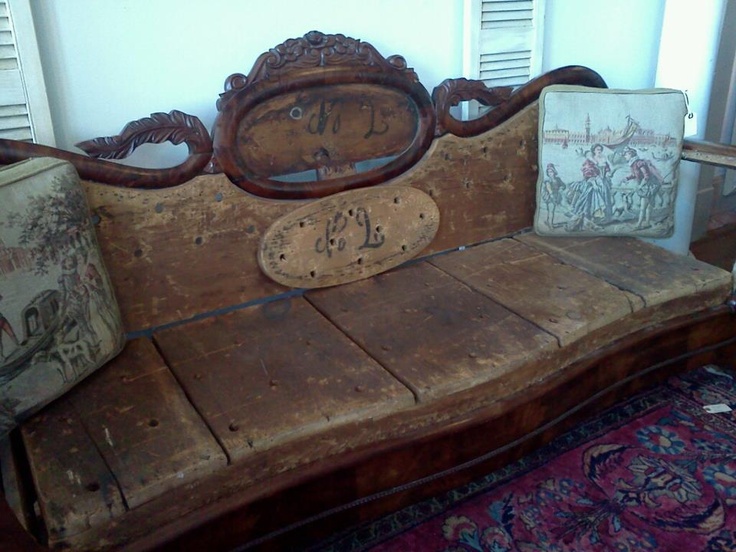 This deconstructed one, which was sold by an antique store in Springfield, Missouri, has the same construction as ours.  In fact, ours has a six written on it in several places.  It almost seems to me like they could have been made in the same place; maybe this is the #2 model and our is the #6?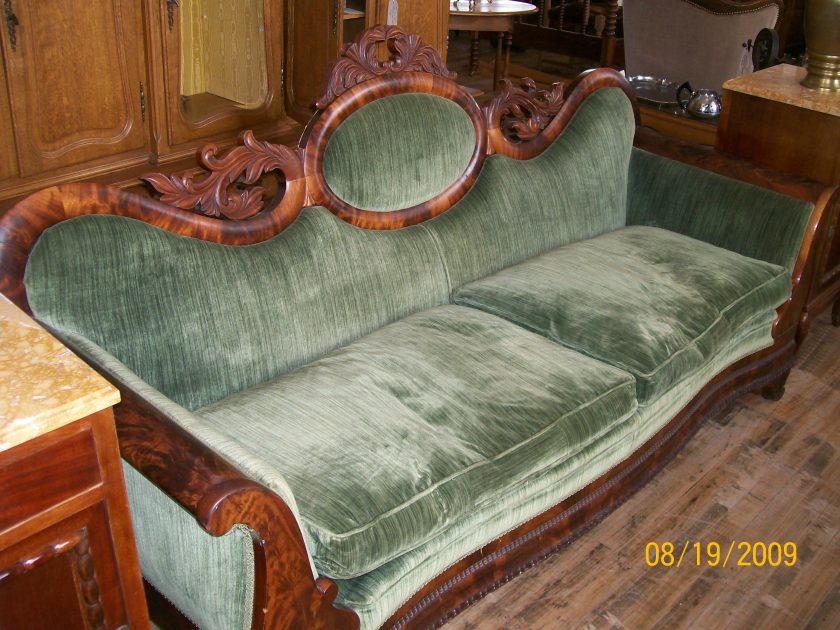 Although the carving on this couch is slightly different it, is also extremely similar to ours.  This one is being sold online from Rockford, Illinois.  The fact the these two couches, plus ours, are all located in a small area of the midwest made us think that they were possibly manufactured locally as opposed to on the east coast.
We may never be able to learn much about the history of our couch.  However, I think we can almost certainly say that it was made in the 19th century.  The style seems to be late Empire, which would make it 1830's to 1840's.  It may be slightly later than that, but I feel comfortable saying that it was most likely made in the mid-19th century, making it over 150 years old!  I just think it is incredible that something that old is in as good a shape as it is.  I feel so lucky to be restoring (in my very amateur way) such an antique.   I'm am especially excited to be able to make it functional and not just decorative.  Stay tuned for the finished couch!
References:
Petraglia, Patricia P.  (1995) Sotheby's Guide to American Furniture. New York: Fireside.
Darling, Sharon. (1984) Chicago Furniture: Art, Craft, and Industry 1833-1983. New York: W.W. Norton & Company.
Butler, Joseph T. (1985) Field Guide to American Antique Furniture. New York: Roundtable Press, 1985.
Boor, Allison et al. (2006) Philadelpia Empire Furniture. West Chester, PA: Boor Management LLC.