All the pictures of Wade are taken on our trip to Disney World.  This is at the Polynesian, where we went to a luau.
I have a bit of an obsession with plaid (ok, maybe more that a bit!).  In the winter, practically all I wear is plaid flannel shirts.  I have also been trying to get Wade to wear more plaid, so two of these are for him.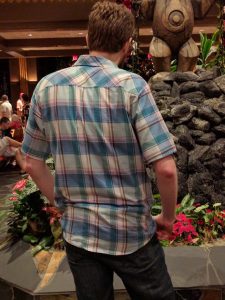 The first shirt is definitely not a winter shirt.  I barely made this in time for Wade to get one wear out of it before the weather got too cold.  However, this was a new pattern (Kwik Sew 3422, one of the older Kwik Sew's), and I wanted to check it out in the short-sleeved version first.  The fabric for this shirt was purchased from Fabric Mart (let's just be honest, almost all my fabric comes from them– their prices can't be beat!*).  If I remember correctly, it was some designer, maybe Ralph Lauren?  I originally bought it for me, but I realized that Wade has no short-sleeved shirts that aren't t-shirts.  In addition to being super-cute, the fabric is a nice-feeling cotton, so I decided to use it for him.  We are headed to Florida for New Year's and this shirt will be perfect for that.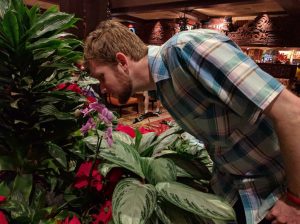 I added a bunch of length (as I usually do for Wade) before cutting out.  I made sure to vertically match the plaid at the front and side seams, but I didn't worry about matching it horizontally.  I don't like how the plaid repeat ended up, so I wish I had matched both directions.The seam allowances were only 1/4″, so the side and sleeve seams are serged rather than flat-felled.  I ended up having to shorten the sleeves, but it wasn't the sleeves that were too long.  Wade has narrow shoulders, so the shoulder seam was hanging partway down the arm, thus making the sleeves too long.  This isn't a big deal, but I shortened the shoulders before cutting out the long-sleeved version.  I love Wade in this shirt and don't regret giving up this fabric.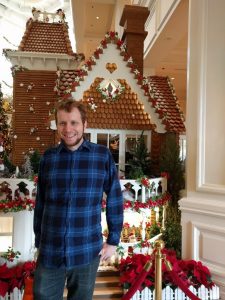 This is a giant ginger bread house at the Grand Floridian.
Wade's long-sleeved shirt is also a fabric from Fabric Mart that I originally bought for me.  It is brushed on one side, so it feels really nice.   I added 3/8″ to the side and sleeve seam allowances.  This made it possible to flat fell those seams and not have any serging.  When I cut out, I matched the plaid at the front in both directions.  The side seams are only matched vertically.  I used my walking foot to ensure that the plaid stayed aligned while sewing.  For my next version of this shirt I will lengthen the sleeves a bit more.  Other than that, I think Wade is pretty happy with this shirt as he has been wearing it a ton.
My mom's sweetest chicken is acting as a prop.  She kept pecking at my earrings!
My shirt fabric has more humble origins.  It was actually in a tub of fabric that I got for free from a friend.  I was going to use it as muslin fabric because it isn't really my colors, but when I went to cut it out, I realized how nice it felt.  I was limited in the amount of fabric that I had, so I was only able to match the plaid at the front, and only in the vertical direction.  In fact, one of the button bands and the inside yoke are cut from a different plaid.  The pattern I was using was the Archer, from Grainline, which I have made before.  The pattern actually has different right and left fronts so that the side that goes underneath has a cut on button band rather than a separate one.  If I had remembered this, I wouldn't have had to use a different fabric for the second one.  However, I completely forgot this until I had cut out both fronts using the same pattern piece, and I had way too little fabric to re-cut.  I don't think the bit of the blue that peaks out at the neckline looks bad, so I'm not stressing about it.
You can see the chicken cute chicken coop.
The side and sleeve seams are flat felled just like Wade's.  In addition, I added sleeve tabs so that I can roll them up.  This shirt is exactly the kind of loose comfy flannel shirt that I wear constantly during the fall and winter.  And, it's basically a free shirt!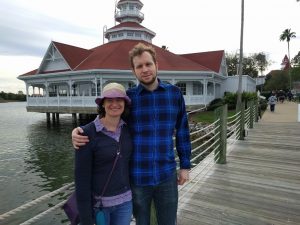 Happy New Year!
*I am not affiliated with Fabric Mart, and don't get any money from them or anything; I just love them!