Presents!
For Christmas this year, I decided to make Wade and I matching robes.  Wade's computer is set up in the basement, and I am always chilly so it's nice to have an extra layer to throw on in the house.  I have an old terry cloth robe, but it is looking pretty ratty.
Look at that pretty Christmas tree!
The pattern for this is an old one that I acquired from my mom (I don't currently have the pattern info).  Nothing really special about it, it's a pretty standard pattern.  I wish I has sized down a bit as they are a bit too loose.  I added the usual extra length for Wade's robe.  I also made his pockets bigger as he is very picky about pocket size.  Additionally, I added hanging loops at the neck and changed the positioning of the belt loops.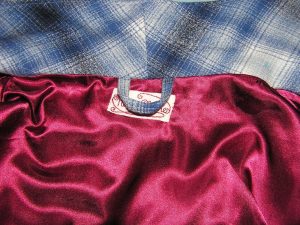 The hanging loop.  With my Kiri's clothes tag.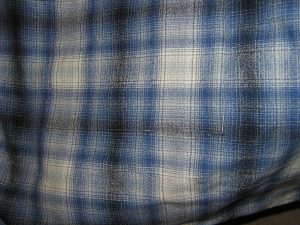 Check out the pattern matching on that pocket!
I knew going in that I wanted plaid flannel.  Wade and I picked a plaid from the Kaufman Mammoth collection.  This flannel is a bit heavier weight than some, which is what I wanted.  I knew from the beginning that I wanted to line them, but I wasn't sure what I wanted.  Initially, I thought I might get fleece for extra warmth.  Once we tried them on, however, I realized that they were plenty warm.  I decided that something silky to make them slip on easily would be perfect.  I considered getting a silk charmeuse, but the color options for affordable silk charmeuse (fabricmart!) was limited, and I wanted to get it right away to have the robes finished in time for Christmas.  I was also worried about the silk getting wrinkly and wanted to maintain the ability to toss the robes in the dryer.  I opted to go with polyester and so picked two different colors of the slipper satin from fabric.com.  To make the lining, I made a front lining pattern piece using the front and front facing pieces.  The lining was then sewn and bagged to the outside.
The pyjama top is actually one that I made.  It is made from a kimono, and I never got around to blogging about it.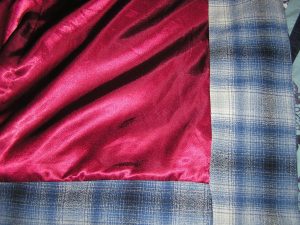 I'm loving the finished robes.  The satin is pretty nice for being polyester and makes the robes slip on really easy.  I think having the lining makes the robes feel extra luxurious.  My robe ended up a little long, so I may go back in and shorten it eventually.  I had a bit of a time crunch to get everything done.  Wade really likes his robe, and we love that we get to match!
The robe in action.  The ham is from our wedding pig!
Happy holidays everyone!