I'm sure no one will be surprised to learn that I'm not the only crafty one in my family!  In fact, all of my crafts were originally taught to me by my mom.  I feel so fortunate that when I started sewing more seriously as an adult, I had already learned the basics from my mom.  I think that we have lost a lot of that person to person transmission of knowledge, I am very lucky that I got to benefit from the expertise of my mom (and my grandmother and great grandmother before her).  Anyway, the focus of my post is my sister!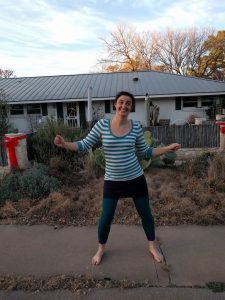 When we all gather at home in Texas for Christmas, we like to bring home craft projects to work on.  Bryne brought some fabric and a copy of the same leggings pattern that I use.  (She had copied mine at an earlier time.)  She used pretty much the same method I use, which is to whip it up on the serger, then do a quick and dirty casing at he top.  My mom prefers to machine-stitch her seams first, and then use the serger for finishing.  There isn't a right way to do it, it comes down to what each person prefers.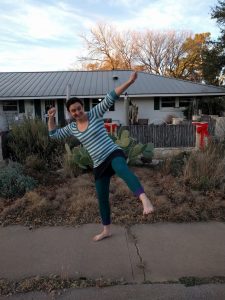 She is demonstrating the flexibility of the leggings.
Bryne added some cute contrast cuffs to her leggings, which I thought were a nice touch.  I didn't even realize until she told me, but the reason she added the cuffs was because she didn't have enough of her main fabric.  That just goes to show you that sometimes "mistakes" can be very fortuitous.  I think they turned out super cute!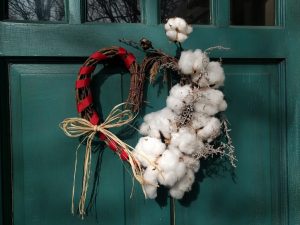 In addition to sewing, we also made wreaths.  These were inspired by some wreaths that I saw for sale up here in the midwest.  I sent a picture to my mom because I thought she would get a kick out of it.  Even though west Texas is mostly known for being an oil producer, it also grows a ton of cotton.  They were in the midst of the cotton harvest as we drove through there on our way home, and the edges of the road were dotted with bits of white fluff.  My mom has a friend who owns a cotton farm, and she kindly collected some cotton boles for us.  My mom pulled together some other wreath supplies, and we had a delightful afternoon making our wreaths.