Awhile ago I went a little crazy buying vintage silk saris online (they are so cheap! and colorful! and embroidered!).  I posted previously about several of the garments that I made from them, and now I have added a couple more.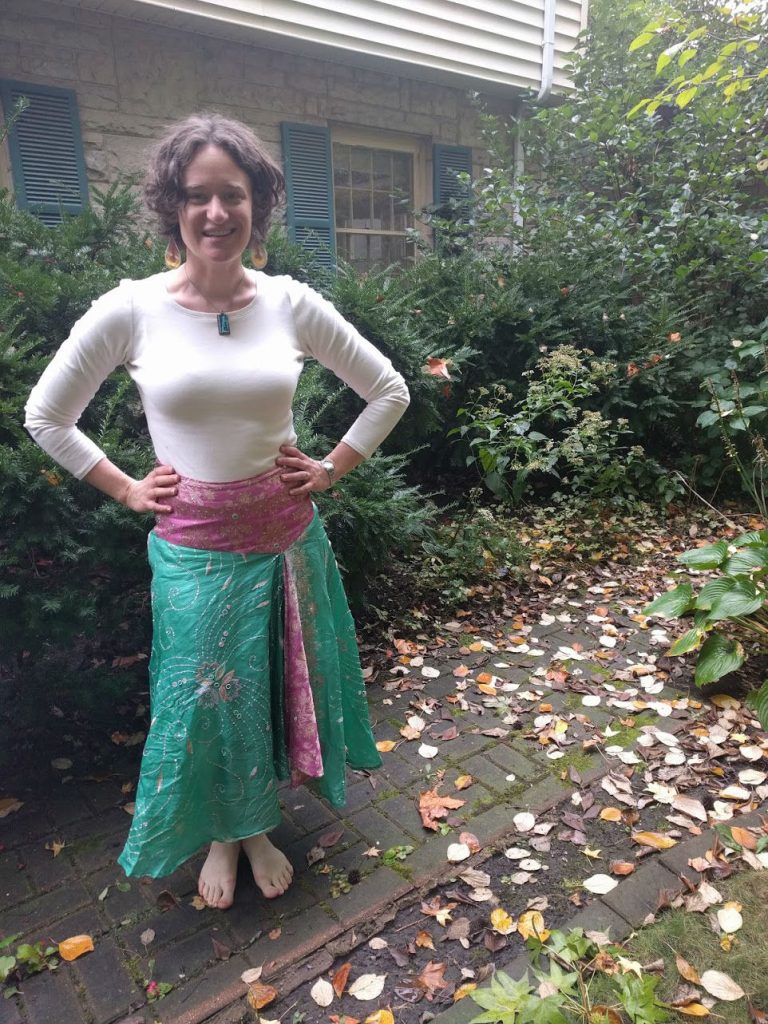 The first one is a super fun maxi skirt from lekala, #4186.  It is basically a circle skirt, but is has an asymmetric yoke and a split in front.  I thought that it would work really well with one of my embroidered saris.
The sari I picked was mostly green, but the contrast area (called the pallu, I believe) is pink and has a woven pattern.  I used that for the yoke and also for the area near the split.  I had to do a bit of piecing to get it on both sides, but I think that effect works.
I do wish that I had adjusted my parameters when getting this pattern (lekala makes a custom pattern based on your measurements) because the yoke is very tight.  I let it out as much as the seam allowances allowed, and I can just barely zip it up.  I'm glad that the yoke is both interfaced and made of the sturdier part of the fabric, because I don't that the flimsy green part would withstand the strain.
Since the green is transparent, I added a short lining that I based off a self-drafted skirt pattern that I have.  Additionally, I used french seams on all the skirt seams, and then both the skirt and the lining are sandwiched between the yoke and the yoke facing. To avoid sewing through all the beads and sequins, I had to spend a bunch time removing them from the seam allowances.  The hem is just a narrow hem.
This skirt is fun to wear, especially with all the sequins on it.  I do wish there was enough of the embroidered area that I could have had a bit of it on the back as well as the front, but there just wasn't enough of it.  I also think that if I make this again I would leave off the waistband.  The tight yoke makes it kind of redundant, and it end up more high waisted than I really wanted.
Twirl!
The second piece is actually pieced.  I used up scraps from 3 different saris that had been used for other projects– similar to how I use up knit scraps.  Most of my other scraps get tossed in my scrap bag and then made into quilt squares as described in this post.  However, I learned that sari silk is just too delicate to work well for quilting.  This is a shame, because it is such fun fabric; this is my alternative way to avoid throwing away the scraps.
The pattern is from Burdastyle, 8-2015, and I used it previously to make this top and this dress.  (I actually have fabric for a second dress as well.)  I pieced my scraps together first and then cut out the pattern pieces.  The raglan sleeves on this pattern worked especially well because the sleeves were already two pieces.  I love doing these types of projects because I find it a fun puzzle to make everything fit and also be aesthetically pleasing.
Since the silk is not opaque, I plan on always wearing this over another shirt, which actually makes it pretty great for fall layering.  If it is a depressing day, this top is sure to cheer me up!
And one more for fun!