This outfit was made to wear to my cousin's wedding, and it is awesome!  For starters, the fabric is a silk kimono with purple peacocks.  I bought the kimono awhile ago because I love both peacocks and purple, but when I bought it I wasn't yet sure what it was going to be.  In my last Marfy order, I got this fun jumpsuit pattern (3432) because I decided I wanted to give the whole jumpsuit trend a try.  I was actually intending to make it out of a totally different fabric, but then I realized that this kimono silk would work great.
You can see my sari skirt in progress in the back.
After I took apart the stitching (which is pretty easy because it is handsewn with silk thread), I hand washed it using a Eucalan wool wash.
The lining fabric was not used at all for the jumpsuit.  It will definitely get used in the future, though.  (Dress also made by me a long time ago.)
Because I was using such special fabric, I wanted to make sure the fit was good.  I made my usual fitting changes for Marfy and then made a shortened muslin (I figured no need to waste fabric making the full legs).  I'm glad I did because I ended up needing to lengthen the crotch a bit (basically undoing the shortening I had done to the bodice as my standard alternation).  Other than that it was pretty good to go.
The biggest challenge I faced with this project was the fabric I chose.  The weight of the kimono silk was great and it obviously feels dreamy, but kimono silk is only 15″ wide.  As you can see, the legs of the jumpsuit are quite wide.  I initially hoped I could get away with just added a "gusset" on the sides, but I ended up having to add a seam on the back legs.  It's not ideal, but I think it doesn't look too bad.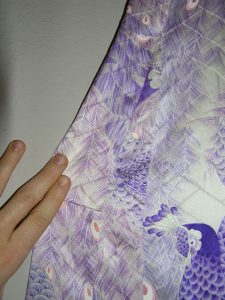 The inserted gusset that allowed me to fit the jumpsuit on my fabric.
The lacy shawl was also made by me.  You can see my Ravelry post about it here.
This was a fun project, and I'm glad I was able to finish it in time for the wedding.  I love using kimonos and saris as fabric because they have such fun patterns and make the resulting garments feel unique.  I still have one more kimono sitting in my stash with no plans for what it will be yet.  Hmmmm.