In addition to all of the other crafts that I do, I also like to dabble in natural dyeing. Although there are many synthetic dyes available that make dyeing quite easy, for now I have decided to stick with natural dyes for my personal dyeing. This project has been in the works for a few years already, and it's still not finished.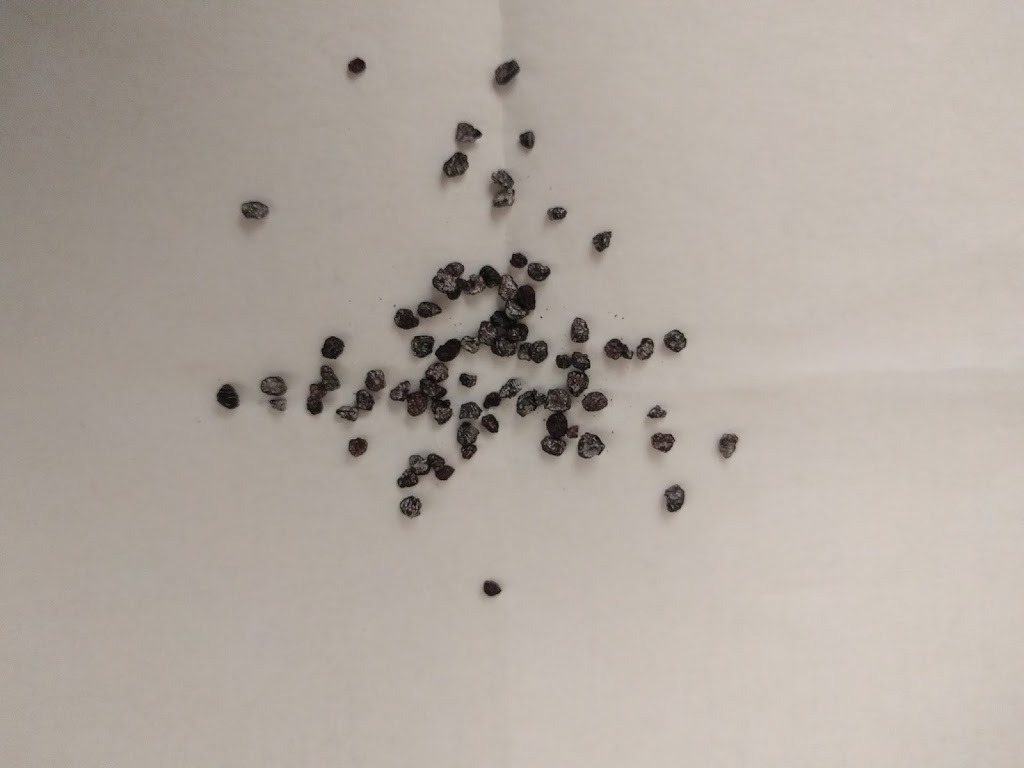 This is what the cochineal looks like before grinding. Cochineal is an insect that lives on the prickly pear cactus. The insects are collected and then dried. Cochineal is actually used to color all kinds of things, including food!
My mom lives in west Texas and is also a fiber artist. In her area, people will occasionally keep sheep to essentially mow their properties. They usually don't care about the fleeces, and will often give them away. Which is how my mom ends up with them. This particular fleece was mohair– that is the fiber that comes from the angora goat (which is not the same as angora fiber, which comes from the cutest, fluffiest bunnies in the world). Since the fleece was free, it was not in good shape. West Texas is known for being kinda dusty, and I think this fleece absorbed all the dust it came in contact with. When I first started washing it, it looked brown. It did not start looking white until rinse number 4, and I ended up doing a total of 7 rinses. I worked it so much that some of it ended up felting. Even after this, the fleece still had a fair amount of plant matter in it.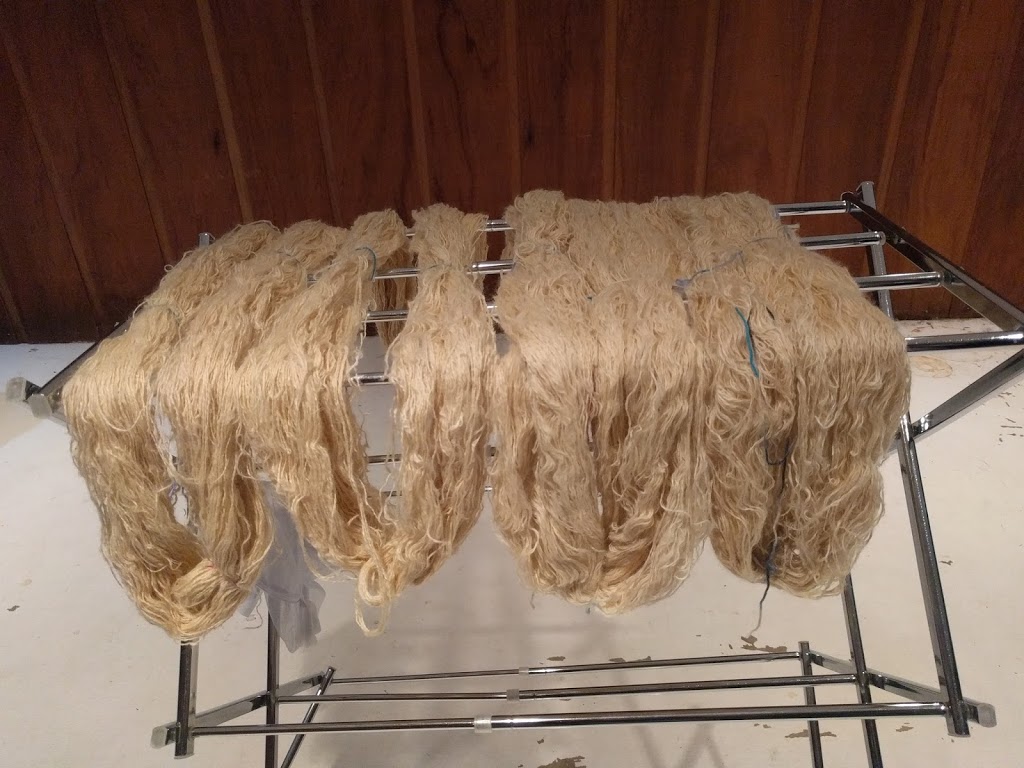 Before spinning, I carded it, and some much stuff came out of it that I would sit on an old sheet to avoid getting too much on the floor. I eventually got it all spun into a lightweight yarn (the closest I could get to lace weight). I knew that I ultimately wanted to make it into a shawl, but first, I wanted to dye it.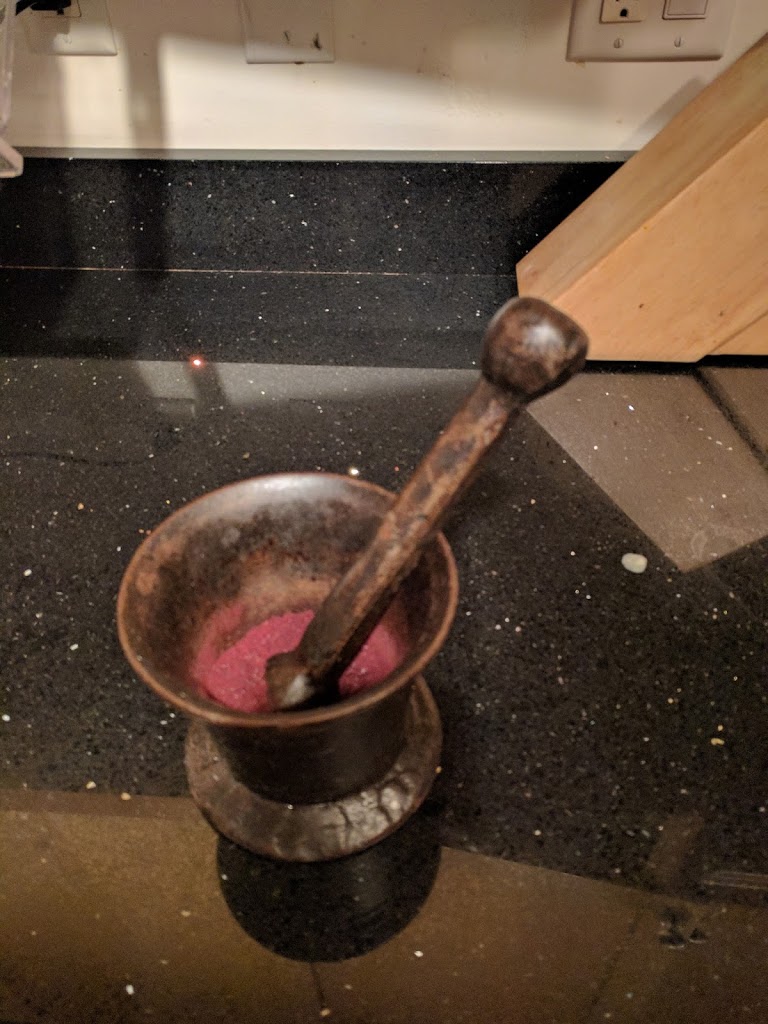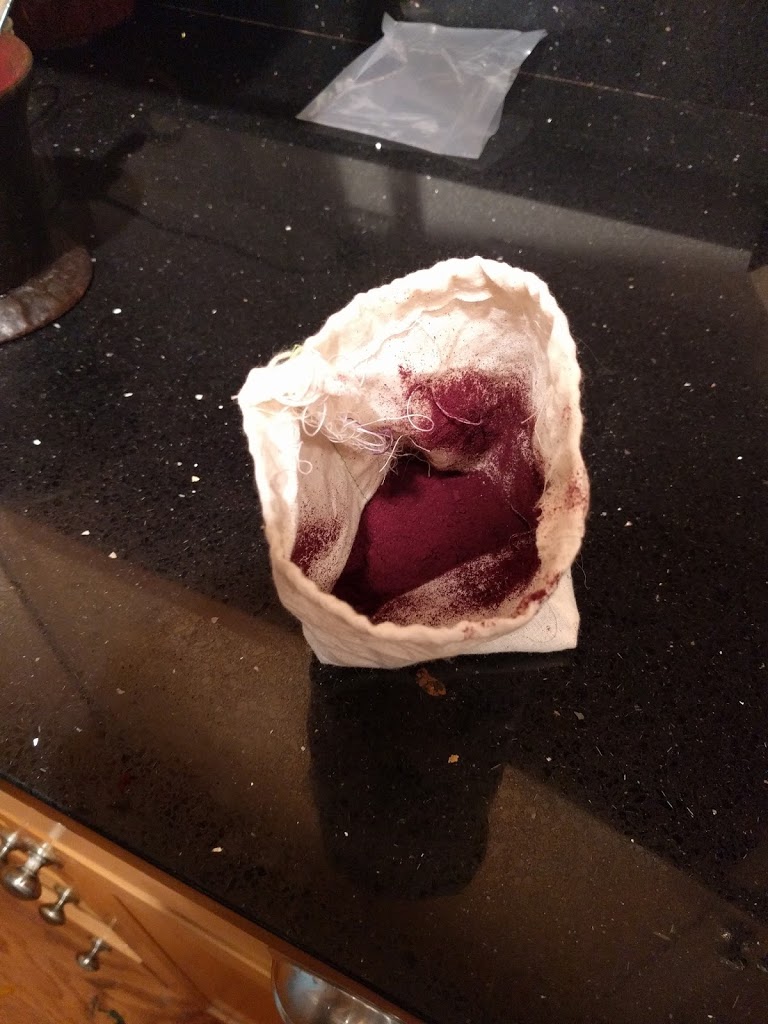 If you've read my blog much at all, you can probably guess what color I wanted to dye the yarn. Purple, of course! So now you are probably wondering why the yarn is pink. Well, you may have heard that purple fabric used to only be worn by royalty? That was because the only natural dark purple dye comes from a snail. You need lots and lots of snails to get a decent amount of dye, which makes it very expensive. (You can actually still buy this dye today; it's still really expensive.) However, red and blue natural dyes are easier to obtain, and when you put them together, you get purple.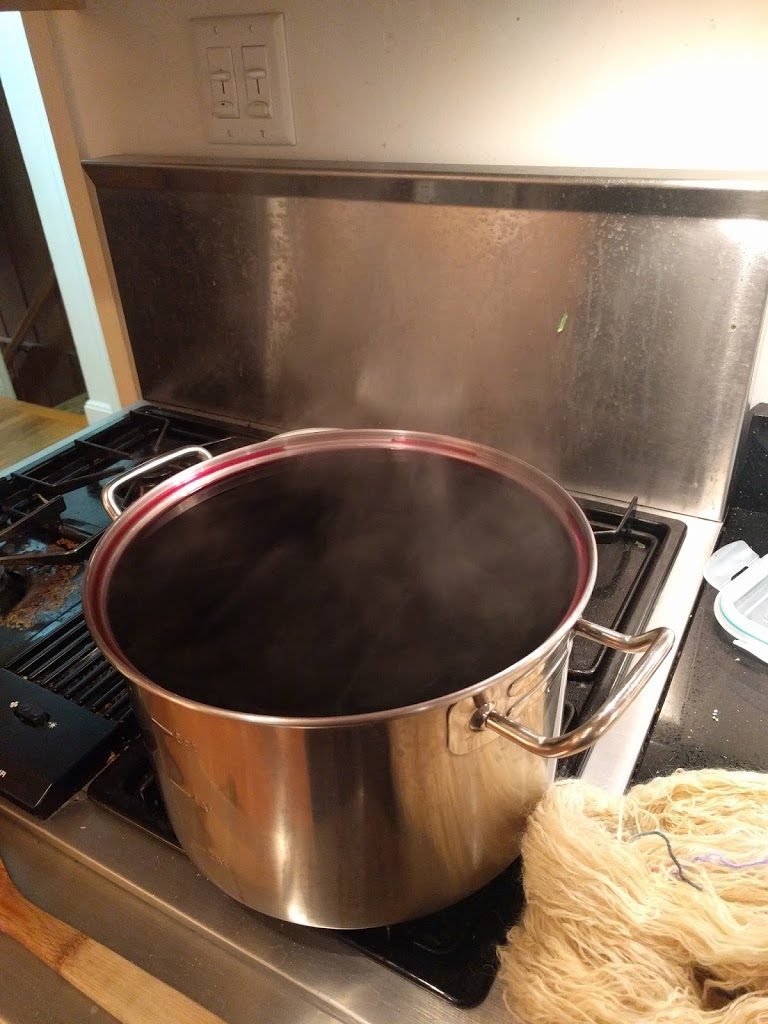 So, dyeing the mohair with cochineal is the first step of my dyeing process. Well, actually the first step was mordanting it with alum and cream of tartar. Mordanting helps the dye to "stick" to the wool. I got my cochineal from Dharma Trading, and I followed their instructions for dyeing. The only change I made was to use only 10% cochineal by weight instead of 20%. I did make up a "teabag" to contain all the cochineal bits so it didn't get mixed up with the yarn. After simmering the yarn for an hour with the dye, I let it sit overnight because I wanted a deep color.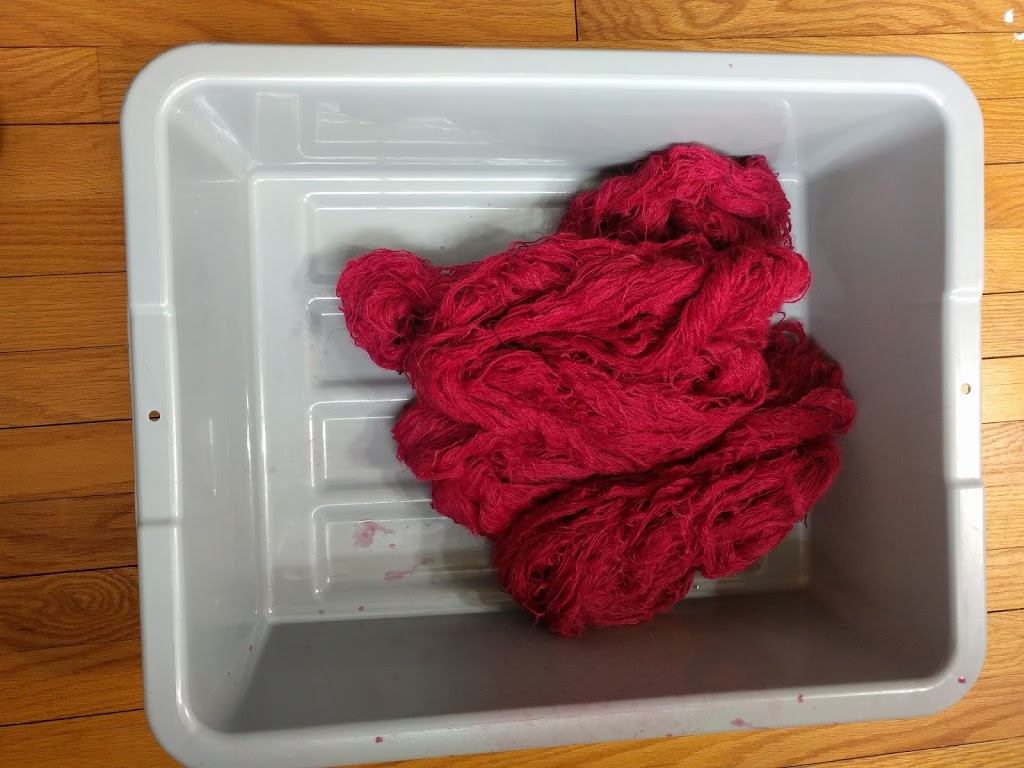 Once a dye bath has been used, it can be re-used to get lighter colors. I am planning on doing some shibori dyeing, so I thought this might be a chance to test out some techniques. I dyed two pieces of fabric. One is a silk and the other a cotton knit. For the knit, I used washers and rubber bands to try out a shibori technique.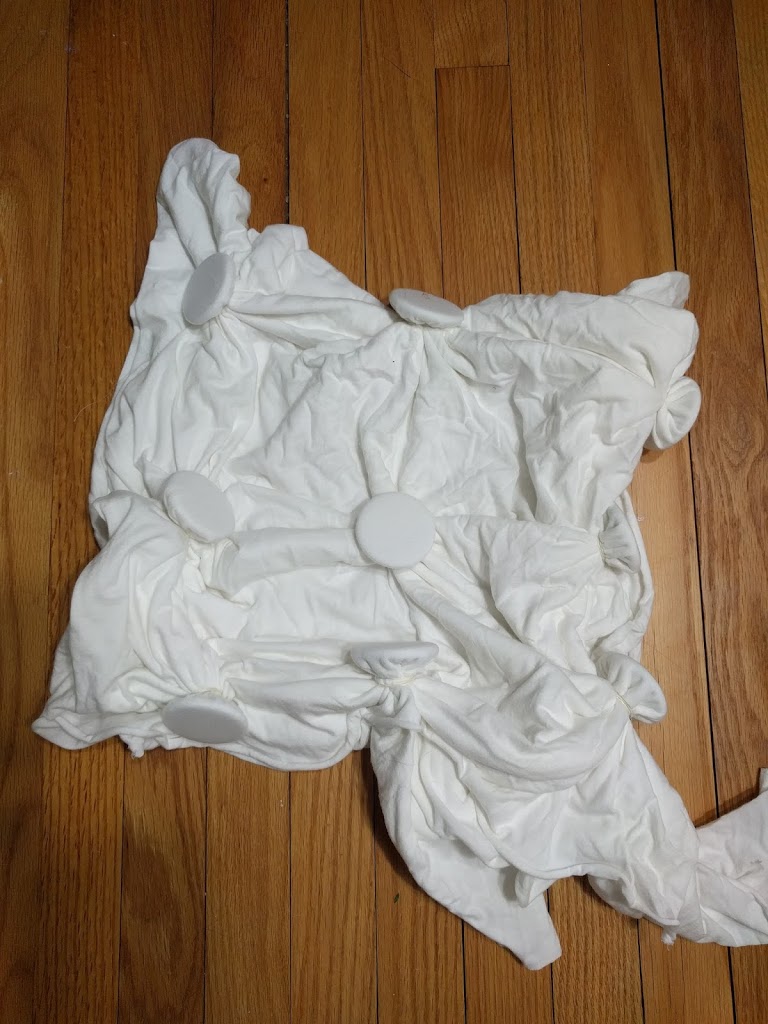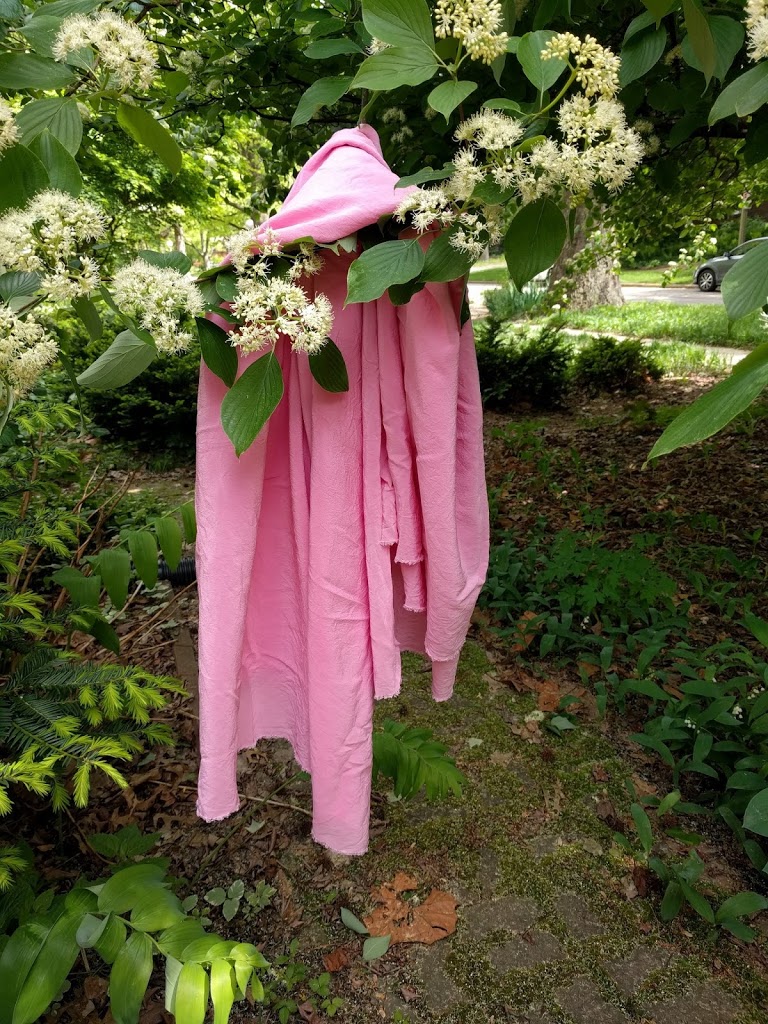 I love the color of the silk. It is almost exactly what I was hoping for.  You can see how different the first and second uses of the dye bath came out. (They are also different fibers which also matters.) The cotton was so light that it looked like it had been put in the wash with something red rather than deliberately dyed. (I can't figure out where I put it so don't have a picture.)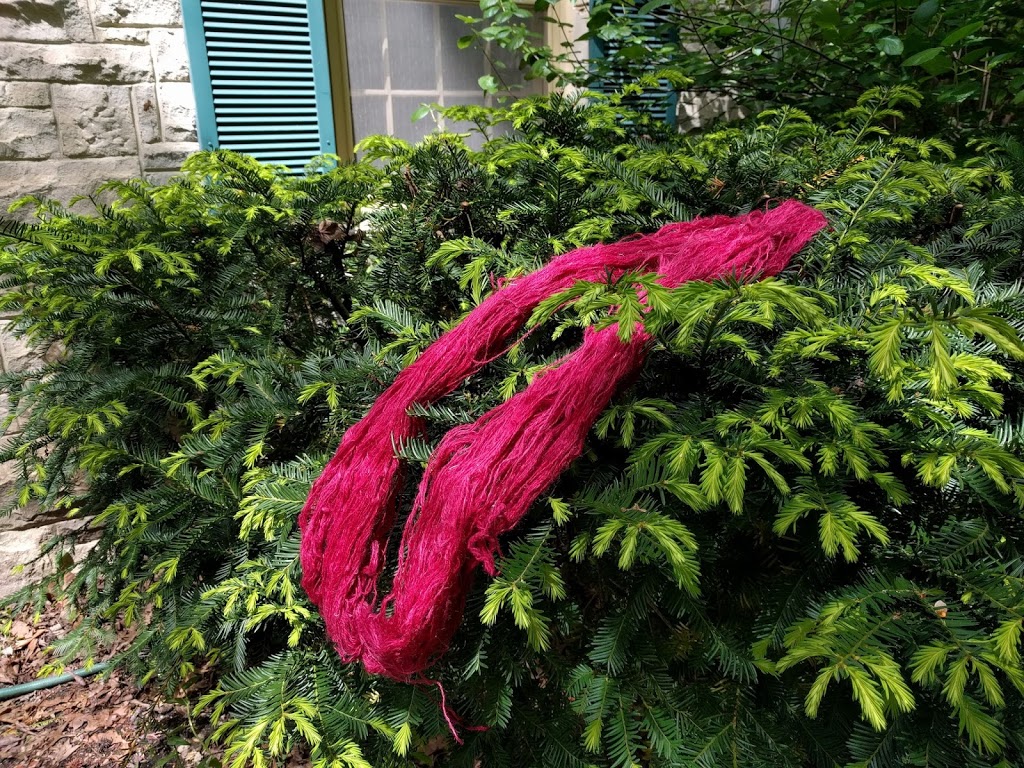 I think the yarn came out amazing. I actually like the color so much, I considered just leaving it pink. However, as much as I like the color, I don't wear a lot of pink, so the finished shawl wouldn't go with much of my wardrobe. In order to turn it from pink to purple, I will be overdyeing it with indigo. Once that is done, I can finally make the shawl!