It's been awhile since I had a knitting project on the blog.  I am actually knitting all the time, but I knit a lot of boring socks (here's an example) that I don't bother talking about.  (I do have some other projects finished that I just haven't photographed yet.)  I recently have been inspired by some of the women in my fiber guild to branch out into some more interesting socks.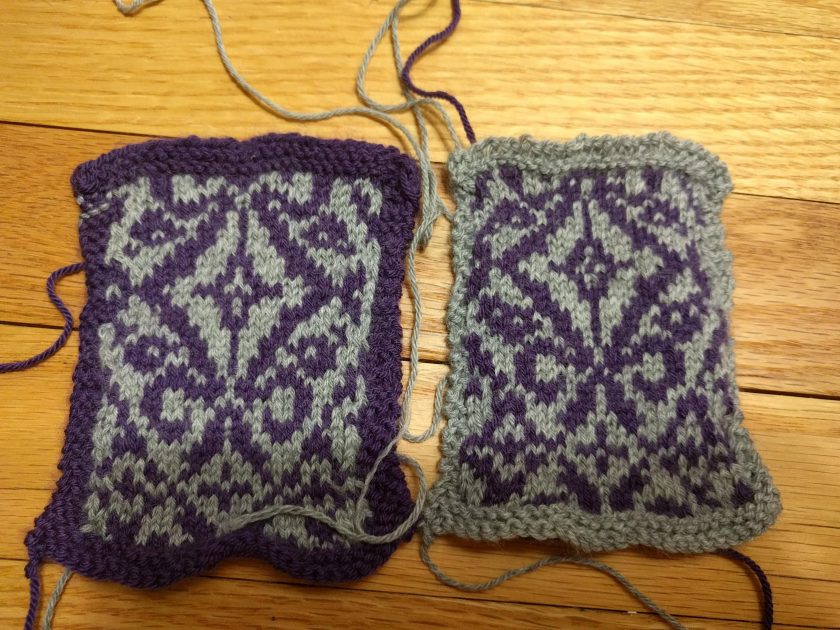 I decided to do some colorwork, and I found a pattern I liked from the Twist Collective.  The yarn is Valley Yarns Heritage in purple and light gray heather.  I knit up a swatch like a good knitter, and I actually got the right gauge, which never happens to me.  Unfortunately, my foot did not match the finished size of the sock.  I went up a needle size and knit a second swatch, but I came out the exact same gauge!  At that point, I decided to do what I usually do, which is adjust the number of stitches, rather than the gauge.  However, since the sock is all complicated colorwork, I had to figure out how to add the stitches I needed.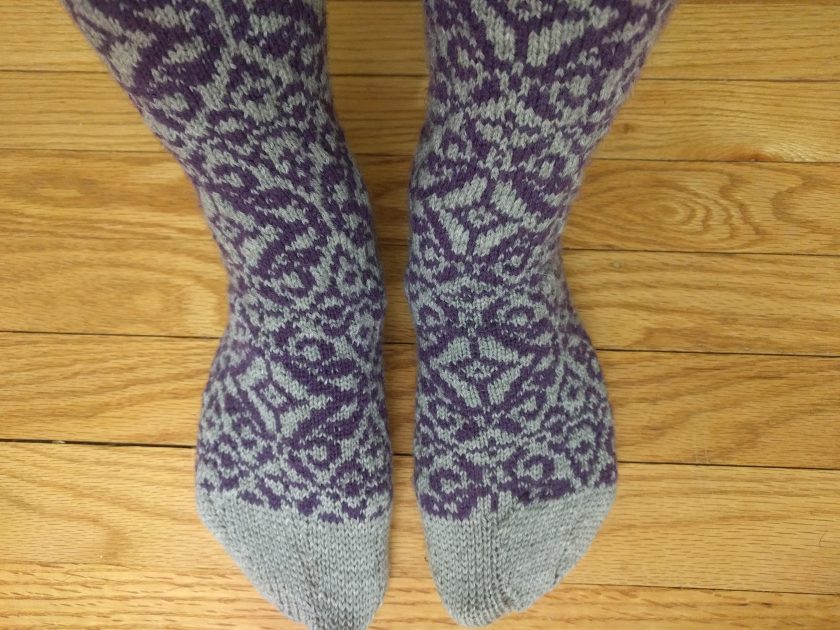 I only had to add 4 stitches per repeat of the pattern, and I was able to figure out how to alter the design easily.  I was complaining to my husband about having to re-do the chart by hand to make the changes to the pattern.  He immediately offered to write a program to convert the chart PDF into a spreadsheet.  Once it was in the spreadsheet, I could easily add rows to change the pattern.  The program will definitely be useful for other projects; in fact, I have already used it to enlarge a chart that was so small it was giving me a headache.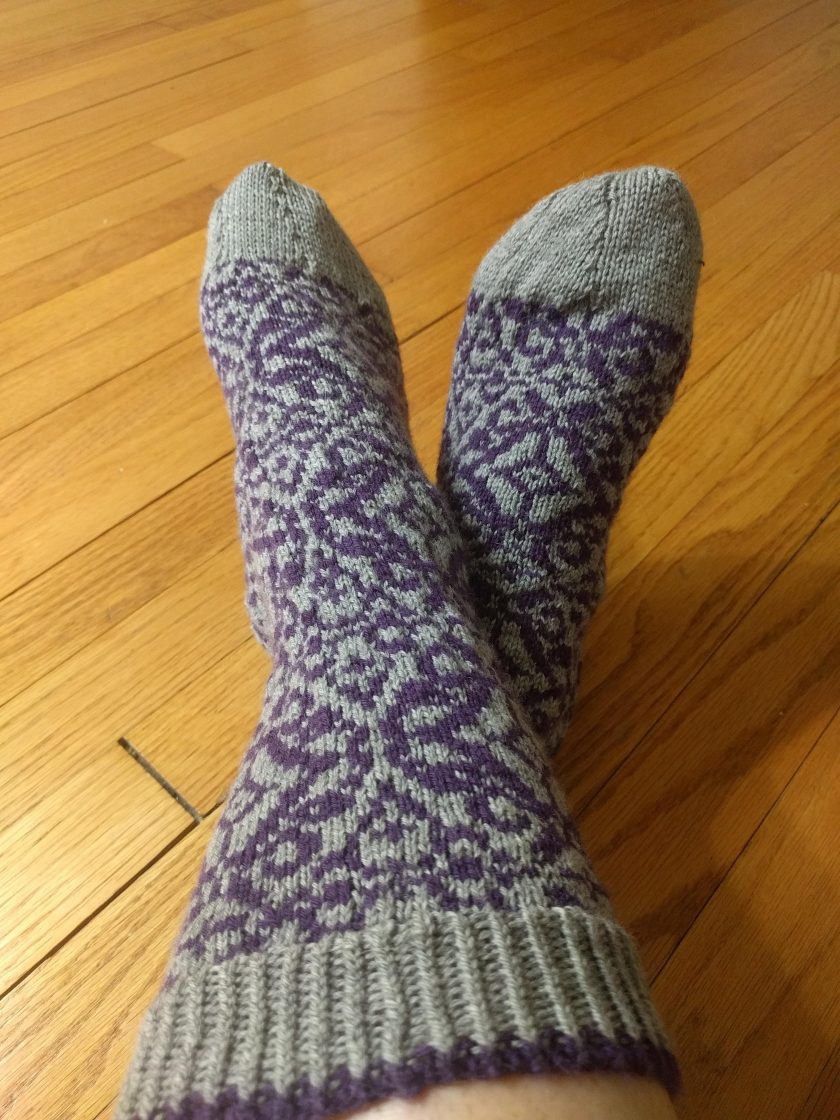 I used my altered pattern on the leg, and did one repeat of the new version and two repeats of the original version on the foot.  I don't think the difference is very noticeable.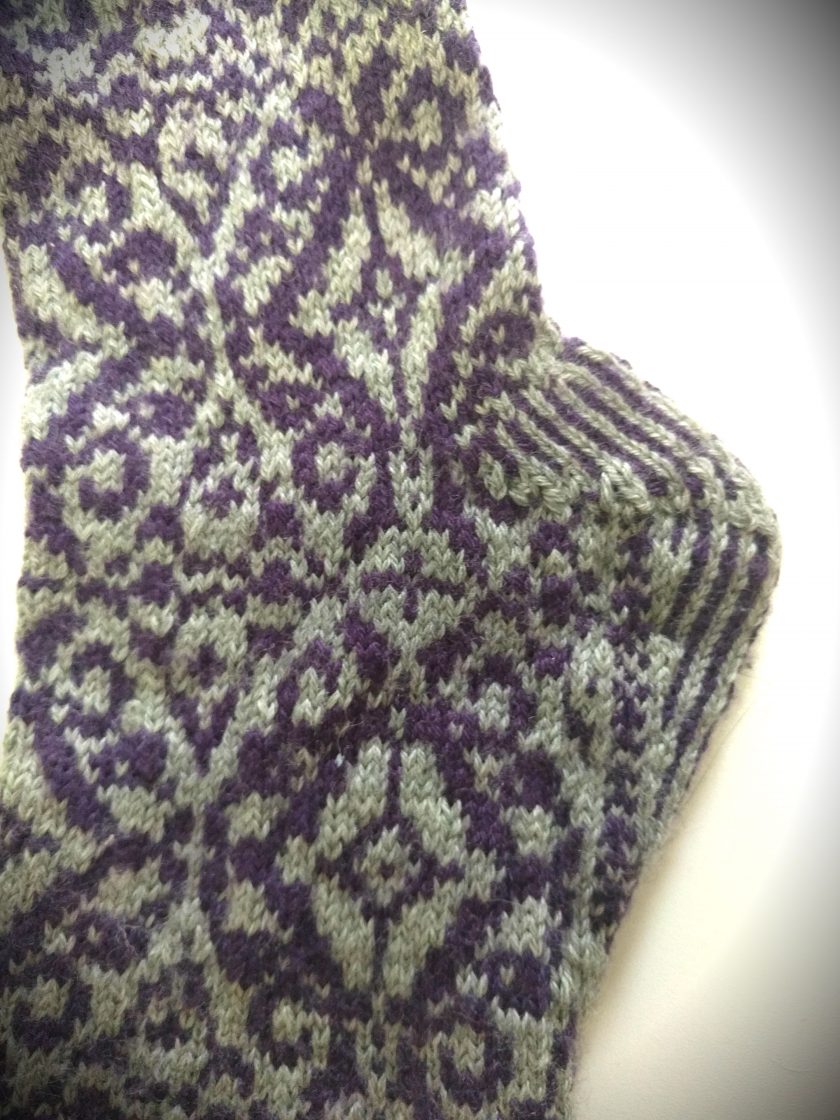 I am pleased with how the socks turned out.  It was fun to make a not-boring sock for once!  The only problem was that I didn't anticipate that the colorwork would use more yarn, so I had to buy a couple extra balls.  I wore these to a spinning workshop recently and got several compliments.  Ravelry post is here.